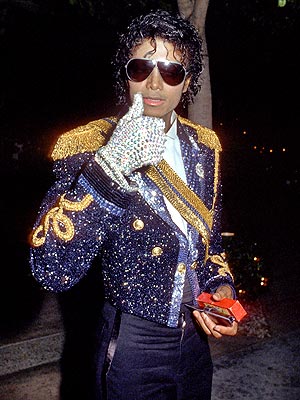 Michael. MJ. The King of Pop. It was the death of Elvis for my parents, and for my generation
today will be a sad milestone of history
.
Michael Jackson is a huge part of my childhood (and others no doubt) - I remember waiting all night for his videos to come on MTV when I was little, I wore out my copy of Thriller, I had a MJ scrapbook, trading cards, and
this classic poster
of Michael in a yellow sweater vest on my wall. Later on, I was impressed with his willingness to push the envelope a little bit, releasing a lyrically edgy hit song like "Black or White."
Later in life, when I spent years in Europe I was amazed at how popular he still was over there - his fame never receded like it did in the U.S.. Now, for the last few years, MJ's been back in my life as my daughters have rediscovered Micheal's classic early work and relish it for themselves.
To honor Michael, I think it warrants posting one of the most famous moments in TV history - a night I'll never forget - his legendary May 1983 performance on the
Motown 25th Anniversary Special
of Billie Jean.
Oh, and he moonwalked too that night - I was in first grade and remember that the next day, every kid in school (probably every school...)was talking about it and trying to do it like he did.
His energy is amazing here - enjoy:
Here is more background for the performance:
Five months after the release of his phenomenally successful second album, Thriller, Michael Jackson performs the 'moonwalk' on the

Motown 25th Anniversary Special

to his hit song "Billie Jean" on this day in 1983. (He had introduced the move in front of a live audience earlier that year.)

Already well-known since the age of 11 as the star and lead singer of the Jackson 5, a family musical act made up of Michael and his brothers that was signed by Motown in 1969, Jackson released his first solo album, Off the Wall, in 1979 when he was 21 years old. The follow-up, 1982's Thriller, was packed with seven hit singles and went on to break all music-industry sales records as it made Jackson a worldwide superstar. Jackson's May 16, 1983 performance on the

Motown 25th Anniversary Special

boosted enthusiasm for the release and spawned the 'moonwalk,' a dance move--in which he appeared to be slowly moving forward as he actually moved backward--that is now synonymous with Jackson and his unprecedented critical and commercial success. (The move was actually a takeoff on the 'backslide,' which had been performed on Soul Train a couple of years earlier.) Later that year, he released a hotly anticipated 14-minute music video for the song "Thriller" on the year-old MTV music network, and was well on his way to revolutionizing not only pop music, but television as well. (from This Day in History)
> Learn more about Michael Jackson
BONUS: Jackson 5 - "
I'll Be There
"