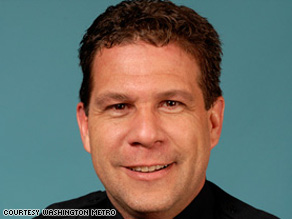 This is an unbelievable story. Houston Metro Officer Eliot Swainson was in Washington, DC this week, deputized to help with the large crowds for the inauguration. On Tuesday, he saved a 68-year-old woman woman who fell on the subway tracks, by quickly tucking her under a platform seconds before a train arrived.
Wait, it gets better. The next day, after he was leaving an interview about the heroic train rescue, he and two Washington transit officers noticed smoke pouring from a nearby row house. They were the first on the scene, alerted firefighters and then began to help people get out of the building.
> Read the Full Story Here
My favorite part comes at the end:
...he couldn't resist playing along when a reporter asked whether -- like Superman -- he was wearing a shirt with a giant letter "S" beneath his uniform. "Well, it's 'Swainson,' " he said, laughing. "So, it's always there."
It takes a special type of person to impulsively act like that - to jump in harm's way to save another life. Thank you Mr. Swainson for being sublimely good!
Watch Swainson talk about the subway train rescue: